Bow Wow Doggie Gift Baskets!
There are 2 types of BOW WOW gift baskets.
One for the dog lover and the other for the doggie itself.
"The Dog Lover Basket" contains mainly gift items;
bone shaped frames, note pads, calendars, a few edibles, etc.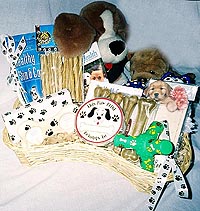 "The Doggie Basket" contains all sorts of items for that special dog in your life. Paw Print Kit, dog bones, dog snacks or treats, bowls, discounts on dog portraits, and toys.
Plus a wonderful bone shaped basket.
The BOW WOW basket comes in one size only.
*BOW WOW* basket is $85.00
*Please note all items may be substituted due to availability during the year*
A donation will be made to the local Humane Society with the purchase of a BOW WOW or MEOW WOW Gift Basket from BASKETS BY ROBIN, INC.