Shipping and Delivery
Most of our gift baskets are shipped from Largo, FL.
Please allow 2 days to process orders, 3 to 4 days during the holiday rush.
We ship by UPS, Fed-ex, DHL. If you choose next day, it will go UPS Next Day or FED-EX.
If there is a mistake in shipping information provided by you, you may have to pay additional charges for re-routing the package or re-shipping it. If an apartment or zip code is wrong, UPS and FED-EX charge up to $12.00 to correct it and this charge will be reversed to you, therefore be sure to double check all addresses before you place your order.
Shipping Terms: UPS Ground, 3-6 business days to deliver depending on the destination state.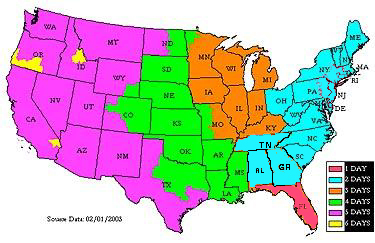 3-Day, 3 business days plus the shipping day
2-Day, 2 business days plus the shipping day
Next Day, it will be there the following business day. Saturday shipping will incur an additional $12.00 charge from the shipper. We do not ship on Saturdays and Sundays, Monday to Friday only.
*Certain Rural Zip Codes may incur and additional charge, up to $3.00
Most orders are shipped UPS regular ground unless otherwise requested. We sometimes ship with Priority Mail with the Post Office.
It has been our experience that most people procrastinate and wait until the last possible minute during a holiday rush to order, even when they know that orders being shipped takes a few days to arrive at it's destination Please try to order in advance of the time when you need your gift basket to arrive at its destination, or choose Next Day Air.
Please remember that Next Day/express shipping is very expensive. FED-EX, DHL and UPS charge by the space the box takes up on their Aircraft and the weight. They measure the box and also add the weight, the larger or heavier the box, the more the cost.
For shipping rates please find and select the gift basket of your choice on our site and shipping rates will be shown for that item. The shipping shown is sometimes not accurate so when the order is shipped adjustments are made.
Special Note: UPS & FED-EX picks up from our location By 3 PM each day, orders after 4 PM will be shipped the next business day including next day orders, so please place your orders on time.
Have additional shipping questions? E-mail Baskets By Robin
Thank You for Your Cooperation in helping us to make your shipping experience a pleasant one.